Pops
Sinatra and Beyond
Friday, April 26, 2024
From jazz clubs to Carnegie Hall to headlining with major symphony orchestras, Tony DeSare brings to the WSO a fresh take on old school class in an outstanding, critically-acclaimed tribute to the great Frank Sinatra. Enjoy as Tony transports you back to Rat Pack days with classics like Come Fly with Me, I've Got the World On a String, I Get A Kick Out of You, New York, New York, and My Way.
Subscriptions for the 2023-2024 season, Music at Play, are on sale now. Contact the WSO box office at boxoffice@wheelingsymphony.com or 304-232-6191 to subscribe today.
Featuring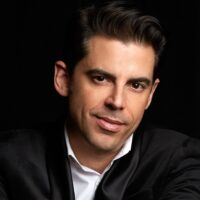 Tony DeSare, vocalist
Tony DeSare performs with infectious joy, wry playfulness and robust musicality. Named Rising Star Male Vocalist in Downbeat magazine, DeSare has lived up to this distinction by winning critical and popular acclaim for his concert performances throughout North America and abroad. From jazz clubs to Carnegie Hall to Las Vegas and headlining major symphony orchestras, DeSare has brought his fresh take on old school class around the globe. DeSare has four top ten Billboard jazz albums under his belt and has been featured on the CBS Early Show, NPR, A Prairie Home Companion, the Today Show and his music has been posted by social media celebrity juggernaut, George Takei. DeSare has also collaborated with Youtube supergroup Postmodern Jukebox. He has been a featured guest artist with over 100 symphony orchestras with some highlights including the Cleveland Orchestra, The New York Pops, The San Francisco Symphony, The Houston Symphony, the Chicago Symphony. Notwithstanding his critically acclaimed turns as a singer/pianist, DeSare is also an accomplished award-winning composer. He not only won first place in the USA Songwriting Contest, but has written the theme song for the motion picture, My Date With Drew, several broadcast commercials and has scored five films. His sound is romantic, swinging and sensual, but what sets DeSare apart is his ability to write original material that sounds fresh and contemporary, yet pays homage to the Great American Songbook. Tony has a strong presence on social media and continues to release his "song diaries", recordings from his home studio that started in 2020 and now number in the 100's. Tony has numerous recordings available on all platforms and playlists. Tony DeSare is a Yamaha Artist.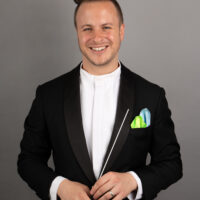 John Devlin, conductor
Conductor John Gennaro Devlin, is an ardent champion of American music, an innovator of concert design, and a thought leader in the field of classical music. In his fifth season as Music Director of the Wheeling Symphony Orchestra, Devlin is only the ninth conductor in its 90-year history to hold that title. He was recently named a recipient of the 2023 Georg Solti Foundation Career Assistance Award. Devlin's artistry and versatility make him a frequent guest conductor with major orchestras across the nation. His engagements include performances with the National Symphony Orchestra, Louisville Orchestra, Virginia Symphony Orchestra, Hawaii Symphony Orchestra, Columbus Symphony, Omaha Symphony, Sarasota Orchestra, Kalamazoo Symphony Orchestra, Princeton Symphony Orchestra, Elgin Symphony Orchestra, and the American Repertory Ballet. Of his debut with the National Symphony Orchestra and violin soloist Joshua Bell, Anne Midgette of The Washington Post wrote that Devlin "led the evening with flair … and was visibly in his element." A strong advocate for American music, Devlin has made it a programmatic focus and has premiered over 40 new American works. Committed to serving the wider arts community beyond the podium, Devlin is part of the six-member Conductor Constituency Leadership Team of the League of American Orchestras, advocating for conductors nationally. Previously, he served on the Conductors Guild's Board of Directors and was a featured speaker at the organization's annual conference, discussing the future of orchestras with the Executive Directors of the National and Baltimore Symphony Orchestras. He also delivered the keynote TED talk on "Innovation in Crowded Marketplaces" at a TEDx symposium. Devlin completed his master's and doctoral degrees in orchestral conducting under the tutelage of James Ross at the University of Maryland. His undergraduate degree is from Emory University, where he graduated summa cum laude with a double major in Clarinet Performance and Latin.