Our season-ending concert will be headlined by the award-winning trio Time for Three, fresh off their GRAMMY win for Best Contemporary Classical Composition. The WSO will perform that composition, entitled Contact by Kevin Puts, alongside Time for Three as we welcome them back to Wheeling, the home of their first-ever performance with an orchestra.
Also on this concert, we will feature the "musician's choice" piece for the season. Each year we poll our orchestra and program selections that they are excited to share with our audience. This year, they have chosen Brahms' Third Symphony—a work equal parts bombastic, somber, and gorgeous. We love playing Brahms for you!
This concert will open with a new work entitled Kiskadee by American composer Arlene Sierra. This commission is a result of the WSO receiving the Virginia B. Toulmin award from the League of American Orchestras for our staunch support of American artists. We are thrilled to welcome Ms. Sierra to Wheeling for the week and to our season-ending concert.
Featuring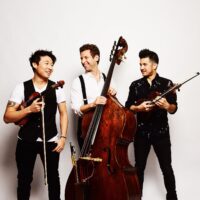 Time for Three, guest artists
Defying convention and boundaries, Time For Three stands at the busy intersection of Americana, modern pop, and classical music. To experience Time For Three (TF3) live is to hear the various eras, styles, and traditions of Western music fold in on themselves and emerge anew. Bonded by an uncommon blend of their instruments fused together with their voices, Charles Yang (violin, vocals), Nicolas "Nick" Kendall (violin, vocals), and Ranaan Meyer (double bass, vocals), have found a unique voice of expression to share with the world.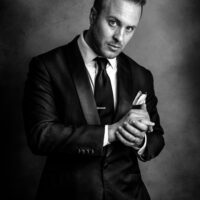 John Devlin, conductor
Conductor John Gennaro Devlin, is an ardent champion of American music, an innovator of concert design, and a thought leader in the field of classical music. In his fifth season as Music Director of the Wheeling Symphony Orchestra, Devlin is only the ninth conductor in its 90-year history to hold that title. He was recently named a recipient of the 2023 Georg Solti Foundation Career Assistance Award. Devlin's artistry and versatility make him a frequent guest conductor with major orchestras across the nation. His engagements include performances with the National Symphony Orchestra, Louisville Orchestra, Virginia Symphony Orchestra, Hawaii Symphony Orchestra, Columbus Symphony, Omaha Symphony, Sarasota Orchestra, Kalamazoo Symphony Orchestra, Princeton Symphony Orchestra, Elgin Symphony Orchestra, and the American Repertory Ballet. Of his debut with the National Symphony Orchestra and violin soloist Joshua Bell, Anne Midgette of The Washington Post wrote that Devlin "led the evening with flair … and was visibly in his element." A strong advocate for American music, Devlin has made it a programmatic focus and has premiered over 40 new American works. Committed to serving the wider arts community beyond the podium, Devlin is part of the six-member Conductor Constituency Leadership Team of the League of American Orchestras, advocating for conductors nationally. Previously, he served on the Conductors Guild's Board of Directors and was a featured speaker at the organization's annual conference, discussing the future of orchestras with the Executive Directors of the National and Baltimore Symphony Orchestras. He also delivered the keynote TED talk on "Innovation in Crowded Marketplaces" at a TEDx symposium. Devlin completed his master's and doctoral degrees in orchestral conducting under the tutelage of James Ross at the University of Maryland. His undergraduate degree is from Emory University, where he graduated summa cum laude with a double major in Clarinet Performance and Latin.