We are pleased to kick off the 2022-2023 season of our popular WSO on the GO: Yoga Series. This first session, taking place on September 10 at 9:00 am, will feature yoga instructor Denise O'Brien and musician Jennifer Gerhard Mangone on the viola. All ages and experience levels are welcome–just bring water and a yoga mat or towel.
Thanks to our sponsor, Roxby Labs, our WSO on the GO: Yoga Series is free to the public.
Featuring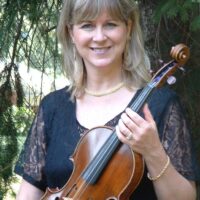 Jennifer Gerhard, Viola
WSO Principal Viola Jennifer Gerhard has been with the orchestra since 1989, first serving as Assistant Principal Viola, then obtaining the position of Principal Viola in 2002. Jennifer is also Principal Viola of the orchestras for Pittsburgh Opera, Pittsburgh Ballet, Pittsburgh Civic Light Opera, as well as Chamber Orchestra of Pittsburgh. She also substitutes with the Pittsburgh Symphony Orchestra. An active chamber music performer, Ms. Gerhard is the violist and music coordinator of both the Wheeling Symphony String Quintet, and Trio Simone, ensembles that perform "WSO On the Go" educational programs and recitals throughout the region. In addition to maintaining a private teaching studio, she has recently been added to the string faculty of Mary Pappert School of Music at Duquesne University. A member of TJL Productions "My Music Orchestra", Ms Gerhard can be seen on PBS with a variety of Doo Wop artists, Davey Jones, Engelbert Humperdinck and more.<br /> From 1982-87 Jennifer held the position of Principal Viola with the Sacramento Symphony Orchestra. Prior to that, she performed with the Radio City Music Hall Orchestra and on Broadway. Ms. Gerhard's primary viola teachers were Paul Doktor, Sol Greitzer, Leonard Davis and Heidi Castleman. Originally from Long Island, New York, she received the degree of Bachelor of Fine Arts with Highest Honors from SUNY College at Purchase Conservatory of Music in 1981. Ms. Gerhard performs on a viola made in 1977 by James Radford Coggin. Jennifer is married to Jeff Mangone, Principal Bassist and Personnel Manager of the Wheeling Symphony. The couple resides in the North Hills of Pittsburgh, in the company of their cats, Bae & Pancake.