For our season-opening Masterworks concert, we are thrilled to partner with Violins of Hope. Violins of Hope is a national organization that brings together an exhibit of beautifully restored violins and other string instruments that were played by concentration camp prisoners during the Holocaust. For this performance, several WSO musicians will perform on those instruments for what is sure to be a reflective and powerful performance.
Several special collaborations will take place as part of this concert. Firstly, our principal clarinet Roi Mezare has selected a special piece by Paul Ben-Haim that will feature himself and the string section of our orchestra. Roi's family was directly impacted by the Holocaust and we have brought him into the planning of this concert to best reflect the stories related to Violins of Hope from within our orchestra.
The core project of this concert is a special one that came into focus when Music Director John Devlin and frequent WSO collaborator Michael Ellis Ingram found the story of composer Walter Bricht. Bricht, a Jew, was so popular in Germany during the first half of the 20th century that in 1938 he was offered honorary Aryan status by Hitler himself, should he pledge his allegiance to the Third Reich. Bricht declined, and speaking no English he emigrated to the United States and settled in West Virginia in 1939, where he taught at a then-existing conservatory of music in Charleston. Michael Ellis Ingram spent extensive time at an archive in Vienna and discovered a manuscript of a piano concerto by Bricht that has never been performed. Happily, we have received permission from the Bricht estate to set, publish and perform the work—with the world premier being given on this concert. We are honored that Maestro Ingram has accepted our offer to guest conduct this work, featuring pianist Dominic Cheli. To close the program, we will feature the Third Symphony by Felix Mendelssohn, himself a Jew who faced much prejudice during his life, forcing him to alter his compositions and even his name. We look forward to what will be a special evening for our audience, for our state of West Virginia, and for the classical-music community as a whole.
Subscriptions for the 2023-2024 season, Music at Play, are on sale now. Contact the WSO box office at boxoffice@wheelingsymphony.com or 304-232-6191 to subscribe today.
Featuring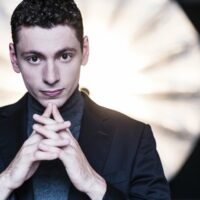 Dominic Cheli, piano
Dominic Cheli embraces the role of an artist-citizen in his multifaceted career as performer, educator, composer, and director. He is described as an "inspired keyboardist" (artsfuse) whose playing is "spontaneous yet perfect, the best of how a young person can play." (Symphony Magazine). His rapidly advancing career included his Walt Disney Concert Hall Debut with the Colburn Orchestra where Dominic was "mesmerizing, (he) transfixed the audience." (LA Times). He gave his Carnegie Hall Recital Debut in 2019 and has had a busy performing and recording career ever since. He recorded his 2nd CD on the Naxos label of the music of Liszt/Schubert, and was a performer/producer/editor on a 3rd CD of the music of Erwin Schulhoff for the Delos Label featuring his collaboration on Piano Concerto no.2 with Maestro James Conlon. He also recently completed work as a composer, audio editor and performer on the documentary Defying Gravity (2021). A native of St. Louis, Dominic has performed with orchestras all across the country and abroad including the San Diego Symphony, Sarasota Orchestra, Indianapolis Symphony, Columbus Symphony, Princeton Symphony, Colburn Orchestra, Virginia Symphony, Adrian Symphony, and the Nordwestdeutsche Philharmonie (Germany). He has worked with conductors such as James Conlon, Gerard Schwarz, Valery Gergiev and many others. Dominic debuted at several major festivals across the United States including the Ravinia Festival, Mostly Mozart Festival, and the Virginia Arts Festival. Upcoming engagements include appearances with the Seattle Symphony, a debut at Alice Tully Hall, and his 4th appearance at Carnegie Hall. Dominic has received degrees from the Manhattan School of Music, Yale University, and the Colburn School studying with Zena Ilyashov, Andre-Michel Schub, Peter Frankl, and Fabio Bidini. Mr. Cheli is a Yamaha Artist and recently appointed faculty member of the Colburn Community Music School.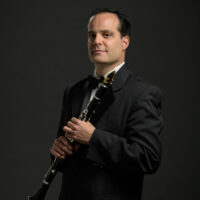 Roi Mezare, soloist
Roi M. Mezare was appointed Principal Clarinetist of the Wheeling Symphony Orchestra in 2016. He previously served as a member of the Erie Philharmonic and worked with the New World Symphony in Miami. As an active orchestral musician, he has performed with the Pittsburgh Symphony Orchestra, as a core substitute and guest principal clarinetist, Pittsburgh Opera, Pittsburgh Ballet and the Pittsburgh CLO to name a few. He was a top prize winner of the Toronto Symphony Orchestra's Tom Thomas award, first prize winner of the Toronto Kiwanis music festival for two consecutive years and the winner of the America Israel Cultural Foundation award for seven consecutive years. As soloist, Roi performed in Israel, Europe, the former Soviet Union, Canada and the United States. In 2019, he performed the Mozart Clarinet Concerto with the Wheeling Symphony. He had the distinguished honor to perform and accompany international diplomats as principal clarinetist of the Israel Defense Force Orchestra, including a visit to Moscow with the late Israeli Prime Minister Yitzchak Rabin. As an educator, Roi taught at the Royal Conservatory of Music in Toronto, Canada and Seton Hill University in Greensburg, PA. His education includes studies with distinguished teachers Michael Rusinak, Avram Galper, Yitchak Katzap and several clarinetists from symphony orchestras across the US. He received his Master's degree from Carnegie Mellon University, School of Music and both Artist Diploma and Bachelor's degree from the Glenn Gould Professional Music School at the Royal Conservatory of Music in Toronto. Roi resides in Pittsburgh with his wife Nicole, their two sons and a Maltese named Happy.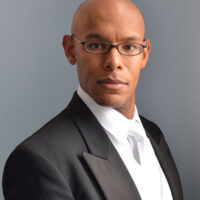 Michael Ellis Ingram, conductor
Conductor and pianist Michael Ellis Ingram has been a répétiteur and conductor at the Mecklenburg State Theater since the 2016/2017 season. Prior to that, in the 2012/2013 season, he was hired as 1st Kapellmeister at the Nordhausen Theater. Ingram studied conducting with James Buswell, James Ross and Ulrich Windfuhr as well as piano with Mia Chung and Alina Polyakov. As a visiting professor he has taught at the New England Conservatory and the University of Maryland School of Music. Ingram taught music and English literature at various schools in the USA and Germany, including at the "Clara Schumann" music and art school in Leipzig. Ingram is also Director of Musical Studies at the Salzburg Institute of Religion, Culture and the Arts, where he has been giving interdisciplinary lectures on music history since 2011.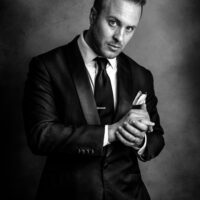 John Devlin, conductor
Conductor John Gennaro Devlin, is an ardent champion of American music, an innovator of concert design, and a thought leader in the field of classical music. In his fifth season as Music Director of the Wheeling Symphony Orchestra, Devlin is only the ninth conductor in its 90-year history to hold that title. He was recently named a recipient of the 2023 Georg Solti Foundation Career Assistance Award. Devlin's artistry and versatility make him a frequent guest conductor with major orchestras across the nation. His engagements include performances with the National Symphony Orchestra, Louisville Orchestra, Virginia Symphony Orchestra, Hawaii Symphony Orchestra, Columbus Symphony, Omaha Symphony, Sarasota Orchestra, Kalamazoo Symphony Orchestra, Princeton Symphony Orchestra, Elgin Symphony Orchestra, and the American Repertory Ballet. Of his debut with the National Symphony Orchestra and violin soloist Joshua Bell, Anne Midgette of The Washington Post wrote that Devlin "led the evening with flair … and was visibly in his element." A strong advocate for American music, Devlin has made it a programmatic focus and has premiered over 40 new American works. Committed to serving the wider arts community beyond the podium, Devlin is part of the six-member Conductor Constituency Leadership Team of the League of American Orchestras, advocating for conductors nationally. Previously, he served on the Conductors Guild's Board of Directors and was a featured speaker at the organization's annual conference, discussing the future of orchestras with the Executive Directors of the National and Baltimore Symphony Orchestras. He also delivered the keynote TED talk on "Innovation in Crowded Marketplaces" at a TEDx symposium. Devlin completed his master's and doctoral degrees in orchestral conducting under the tutelage of James Ross at the University of Maryland. His undergraduate degree is from Emory University, where he graduated summa cum laude with a double major in Clarinet Performance and Latin.