For this special concert, the WSO happily welcomes back composer and performer Clarice Assad, alongside Chicago-based percussion quartet Third Coast Percussion. When Clarice visited Wheeling in March of 2023, we loved our time together so much that we wanted to have her join us again in Wheeling as soon as possible. Combined with the WSO, these five guests will perform a WSO-co-commissioned piece by Ms. Assad entitled Play, which will heavily feature children's toys as instruments, an inspiration drawn from Clarice's own two young children.
Our concertmaster Rachel Stegeman will take center stage as we perform Scheherazade by Rimsky-Korsakov, a piece that inspired Assad's career as a musician. When this concert was being designed by Maestro Devlin and Ms. Assad, Clarice indicated that this was the single piece that was most inspirational in her career, and we look forward to sharing this incredible music–and its story–with you. And finally, we are thrilled to have our Assistant Conductor Antoine Clark return to the Capitol Stage to conduct the Ballad in A Minor by Samuel Coleridge-Taylor. This work is one of the most powerful and heartfelt by this vitally important British composer who sadly died far too young.
Subscriptions for the 2023-2024 season, Music at Play, are on sale now. Contact the WSO box office at boxoffice@wheelingsymphony.com or 304-232-6191 to subscribe today.
Featuring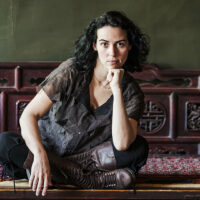 Clarice Assad, performer/composer
A powerful communicator renowned for her musical scope and versatility, Brazilian-American Clarice Assad is a significant artistic voice in the classical, world music, pop, and jazz genres and is acclaimed for her evocative colors, rich textures, and diverse stylistic range. A prolific Grammy Award–nominated composer with more than 70 works to her credit, she has been commissioned by internationally renowned organizations, festivals, and artists and is published in France (Editions Lemoine), Germany (Trekel), Brazil (Criadores do Brasil), and the U.S. (Virtual Artists Collective Publishing). An in-demand performer, she is a celebrated pianist and inventive vocalist who inspires and encourages audiences' imaginations to break free of often self-imposed constraints. Assad has released seven solo albums and appeared on or had her works performed on another 34. Her music is represented on Cedille Records, SONY Masterworks, Nonesuch, Adventure Music, Edge, Telarc, NSS Music, GHA, and CHANDOS. Her innovative, accessible, and award-winning VOXploration series on music education, creation, songwriting, and improvisation has been presented throughout the world. Sought after by artists and organizations worldwide, the multi-talented musician continues to attract new audiences both onstage and off.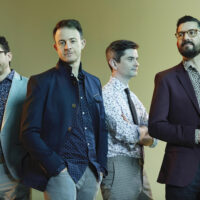 Third Coast Percussion, percussionists
Founded in 2005, Third Coast Percussion has performed hundreds of concerts across the country, presents an annual concert season at home in Chicago, teaches musicians of all ages and experience levels, and has commissioned dozens of new works by composers including Glenn Kotche, Philip Glass, Devonté Hynes, Chris Cerrone, Augusta Read Thomas, Donnacha Dennehy, and David T. Little. The mission of Third Coast Percussion is to inspire and educate through the creation of exciting and unexpected musical experiences. Third Coast Percussion's vision is a world-wide audience that embraces creativity, curiosity, and community through music.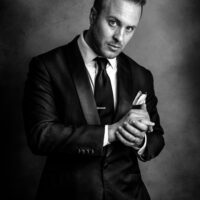 John Devlin, conductor
Conductor John Gennaro Devlin, is an ardent champion of American music, an innovator of concert design, and a thought leader in the field of classical music. In his fifth season as Music Director of the Wheeling Symphony Orchestra, Devlin is only the ninth conductor in its 90-year history to hold that title. He was recently named a recipient of the 2023 Georg Solti Foundation Career Assistance Award. Devlin's artistry and versatility make him a frequent guest conductor with major orchestras across the nation. His engagements include performances with the National Symphony Orchestra, Louisville Orchestra, Virginia Symphony Orchestra, Hawaii Symphony Orchestra, Columbus Symphony, Omaha Symphony, Sarasota Orchestra, Kalamazoo Symphony Orchestra, Princeton Symphony Orchestra, Elgin Symphony Orchestra, and the American Repertory Ballet. Of his debut with the National Symphony Orchestra and violin soloist Joshua Bell, Anne Midgette of The Washington Post wrote that Devlin "led the evening with flair … and was visibly in his element." A strong advocate for American music, Devlin has made it a programmatic focus and has premiered over 40 new American works. Committed to serving the wider arts community beyond the podium, Devlin is part of the six-member Conductor Constituency Leadership Team of the League of American Orchestras, advocating for conductors nationally. Previously, he served on the Conductors Guild's Board of Directors and was a featured speaker at the organization's annual conference, discussing the future of orchestras with the Executive Directors of the National and Baltimore Symphony Orchestras. He also delivered the keynote TED talk on "Innovation in Crowded Marketplaces" at a TEDx symposium. Devlin completed his master's and doctoral degrees in orchestral conducting under the tutelage of James Ross at the University of Maryland. His undergraduate degree is from Emory University, where he graduated summa cum laude with a double major in Clarinet Performance and Latin.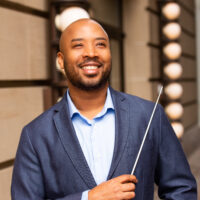 Antoine Clark, associate conductor
Compelling interpretations, inventive performances, and an energetic stage presence are the hallmarks of American conductor Antoine T. Clark. The founding Artistic and Music Director of the Worthington Chamber Orchestra in Ohio (formerly McConnell Arts Center Chamber Orchestra, established in 2013), Mr. Clark has served as Assistant Conductor of West Virginia's Wheeling Symphony Orchestra since fall 2021. A passionate advocate of arts education, in 2022, he served as Cincinnati Symphony's MAC Music Innovator. The program, which highlights leading African American classical musicians who embody artistry, innovation, and commitment to education and community engagement, saw Clark leading chamber music and orchestral performances in schools and throughout the community during his residency. Committed to inspiring and nurturing the next generation of musicians, Mr. Clark has taught students ranging from young beginners to college music majors. He is the Music Director and Conductor of the Northern Ohio Youth Orchestra's Philharmonia and has served as the assistant conductor at the Gateways Music Festival in association with the Eastman School of Music since 2017. Antoine T. Clark holds a Master of Music degree in orchestral conducting and a Doctor of Musical Arts degree in clarinet performance from The Ohio State University, a Master of Music degree in clarinet performance from the University of Cincinnati-College Conservatory of Music, and a Bachelor of Music degree in Music Education from Virginia Commonwealth University. A winner in the 2017 International Conductor's Workshop and Competition, he has participated in the Cabrillo Contemporary Festival of Music, the Monteux School and Music Festival, the International Conductors Guild Conference conducting masterclass, the New York Conducting Workshop, the Smoky Mountain International Conducting Institute, and as a Project Inclusion Conducting Freeman Fellow with the Chicago Sinfonietta.